Introducing DTG
Now At Millcraft!
Get in on the fastest growing segment in the print industry!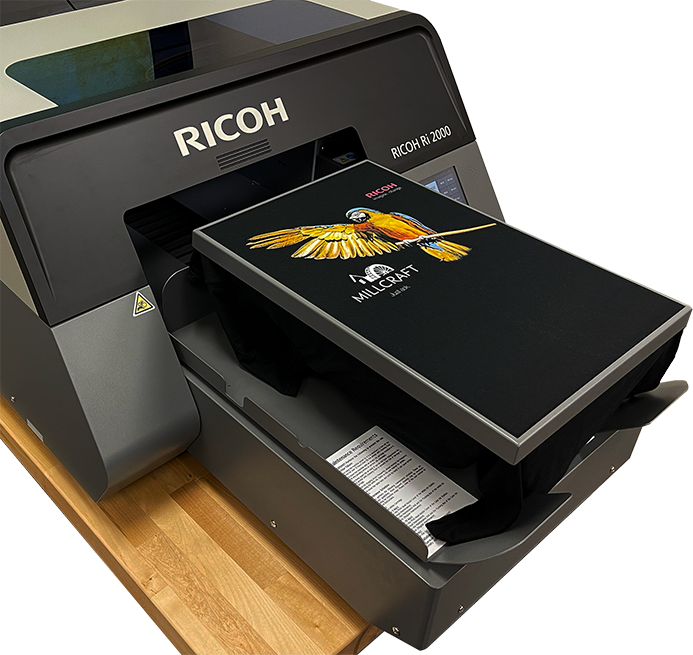 Start or grow a profitable direct to garment apparel business with a Millcraft DTG Solutions package complete with on-site training and excellent support.
WHY CHOOSE THE MILLCRAFT DTG SOLUTION?
Onsite Installation, Training, & Repair
We will setup the equipment, train you on the equipment, and handle the repairs of the equipment.  Live Class Trainings Available.
With Locations In Four States with over 15 Facilities, You Will Get The Help When You Need It From Our Trained Staff​
Excellent Customer Support
DTG Print Operations Expertise
We Will Help With Developing Your Workflow, Help With Your Floor Plan Design For Production, And Substrate Consultation. ​​
Your Paper, Packaging, Mailing Supplies, Hardware, Consumables, Substrates, and DTG… All On One Invoice. It's As Easy As That.
Amazing Supplier Relationships
Great Relationship With Our Suppliers to Get You The Products You Need When You Need Them, Quickly.
Get Your Delivery With Our Delivery Trucks. We Take Your Order From Our Warehouse to Your Business, Directly.​​
What is dtg and what can it do for your company
Direct to Garment printing is the fastest-growing segment in the entire print industry. As customer requests for an on-demand service increase, a solution is needed now more than ever.
Quit Outsourcing & Start Producing!
Short order runs, complex artwork, quick production time, and amazing print quality come naturally with DTG.
With over 100 years of expertise in the print market, Millcraft is here to help your business succeed with custom-tailored Direct to Garment printer packages. Running a prosperous DTG business requires more than just knowing how to operate the printer, Millcraft's expert staff has real-world production experience and knowledge to teach you how to be successful with DTG.
Reach out to one of our DTG experts today to learn more.
We can help by assessing an inventory program, streamline and time your consumables to arrive on a regular and reliable basis, or simply ship out – on demand – based on your latest batch needs. We are here to be your partner in Direct to Garment printing – Just ask.
Weekdays
8AM -5PM* (EST)
* Hours we have our team generating ideas, we will always reply to emails within 24 hours.
Evenings and Weekends
Online ordering – always available
Corporate Address
6800 Grant Ave
Cleveland OH, 44105